All Products
Brass Inserts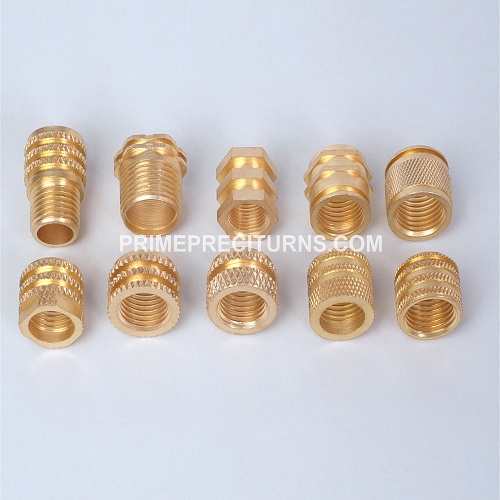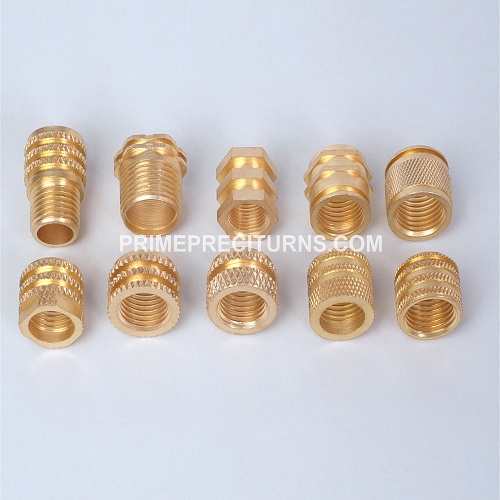 Product Details:
Type of Brass Inserts:
Brass Knurled Inserts

Brass Helical Knurled Insert
Brass Straight Knurled Inserts
Brass Cross Knurled Inserts
Precision Knurled Auto Inserts
Round Knurled Inserts

Brass Special Inserts
Brass Square Inserts
Brass Hexagonal Inserts
Brass Molding Inserts
Brass Tappex Type Inserts
Wood Inserts
Square Inserts
Brass BSP / NPT Threaded Inserts
Brass Self Tapping Inserts
Brass Press Lock Type Inserts
We offer Inserts for UPVC CPVC molding of thermoplastics Formed Plastics LDPE HDPE Rubbers ABS Ploy-Carbonates CPVC Bakelite's PP Acrylic etc.
Threads:
ISO Metric (MM Thread)
BA Thread
BSW Thread(Inches)
UNC & UNF Thread
As Per Customers Requirements
Material:
Free Cutting Brass As Per IS 319 Type (I)
Free Cutting Brass As Per BS 249 Type (I)
High Grade Free Cutting Brass
Any Special Brass Material Composition As Per Customers Requirements
Length / Size:
Begins from M2 or equivalent threads and up to any size as per custom design or requirement.
Outside Finishing:
Polished Diamond Knurling Straight Knurling
Platting:
Natural Platted Nickel Platted Chrome Platted Tin Plated.
Any type of Brass Inserts can be developed as per customer's specifications or requirements.
Application:
Instrumentation Telecommunications Automobile industries Electrical and Electronic industries and other Plastic Cases Assembly.
Advantages:
Begins from M2 or equivalent threads and up to any size as per Custom Designs.
Knurling options availability to give solid gripping to Molding applications & Fittings.
Ultrasonic series with opposed Diagonal Knurled provide excellent Torque Resistance.
Inner Diameter (I/D) after Threads with very close tolerance to prevent unnecessary flush to enter into the inserts.
Deep groove for maximum pull out resistance.
Threads as per International Go & Not Go Standards.
Both blind and through inserts are available with no minimum Qty.
Features:
In such cases the length of insert is very important for proper closing of moulding die. We maintain length of such inserts within tolerance of -0.05mm.
Thread Size Starts from M1 to M50 BA BSW BSPT and BSF & American Threads like UNC UNF UNEF and NPT are also available as per custom requirements.
Straight Diamond opposite diagonal etc. are the knurling options available to give solid gripping to Molding applications.
Inserts with collar series provides Options to use Flange to make Electric Contact
Opposing Diagonal Knurls provide excellent Torque Resistance.
Vertical Undercuts in Tri Series Provides Superior Tensile Strength
Blind thread or closed bottom Inserts prevents plastic from entering the bottom of the insert.
Packaging Details:
As per buyer's requirements we providing packings
For Export the reels are packed in wooden crate/box.
Relevant markings are provided in each outer package.
Quality:
100% inspection before shipment.
Pre-shipment sample for free.
HD pictures of the production process.
Lead time:
We will give you lead time based on your project.
Weekly report with pictures of production process.
Free air shipment if there is delay in delivery
We can manufacturer and export any type of Brass Inserts Parts as per specifications (custom drawing and samples) for more information please  Contact Us or Inquiry Now.